How to Care for / Hang Your Navajo Rug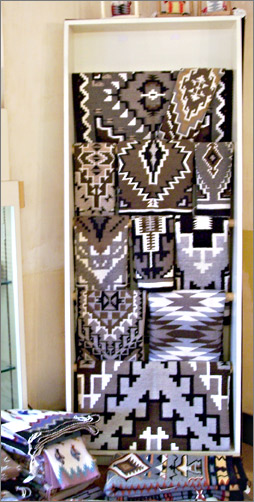 To hang your Navajo rug, use a 2" wide Velcro (just need the one-sided 'grabby' side) and a strip of thin wood/molding, to adhere the Velcro to. Measure length of the rug you are hanging and go slightly shorter (by about 1/8th inch) for the length of the wood. Measure and adhere the same length of Velcro strip to the wood. This is your rug "hanger".
The hanger you have created can be nailed directly into the wall (preferred) or can be hung on strong picture wire (ok but may detract from rug). The rug can be pressed along the length of the hanger where it will "grab" the Velcro. If you have a rug that curls at the bottom corners, you may support w/ Velcro.
This method of hanging puts the least strain on rug fibers, gives even distribution and makes it easier to rotate your weaving. Very old or worn rugs may not have enough "nap" to grab the Velcro and you may need a clamp style hanger for these. For long term hanging, never use clamps unless they go the full length of the rug. Do not nail or tack fibers.
It is important to rotate your rug and best to keep out of direct sunlight. If the rug is in a very sunny room, rotate every two to three months. Otherwise, rotate twice a year. Rotating your rug is important for the "movement" of the rug, helps prevent moths and allows for even wearing/fading if there is any. When rotating your rug, go front to back and next time from top to bottom (if without pictorial elements that need to be right side up).
Air out your rug twice a year, on a clear day, at rotation time. Hang rug outside by draping over a clothesline, balcony/deck, fence – protect underside with a clean white sheet if needed. Airing out occasionally will help prevent moths.
If a rug is used on a hard floor, use a good quality carpet pad or foam. This will prevent slipping and prolong the life of the rug.
The best way of cleaning your Navajo rug is regular vacuuming (weekly if on the floor, every month or two if on the wall). Avoid the use of stiff brushes or trimming/pulling fibers. If a rug is hung on the wall, there may not ever be a need to dry clean it.
For spot cleaning, K2R spot remover or Woolite can be used but without water! Navajo rugs need to stay liquid-free and should not be washed.
If a rug has prolonged use on the floor or gets stained, it can be DRY-cleaned. A professional dry-cleaner with expertise with Navajo rugs will know not to use liquids and will also have a lanolin restorative process.
For long term storage, rugs should be mothproofed, rolled and stored in tightly sealed bag. Folding for prolonged periods of time may result in hard to remove creases.
For Professional Cleaning and Restoration, contact a dealer who HAS EXPERIENCE in cleaning Navajo rugs specifically.