ABOUT INDIAN CRAFT SHOP - Authentic Native American Crafts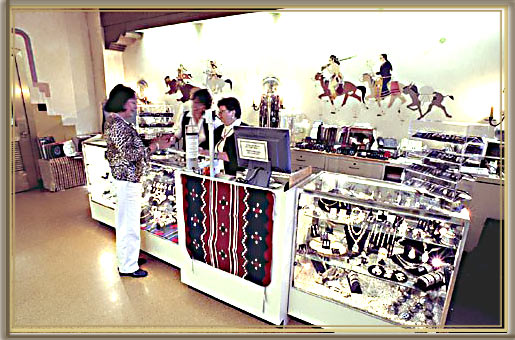 Established in 1938, located inside the U.S. Department of the Interior, The Indian Craft Shop represents the work of American Indian Artists from across the country. This charming shop is under historical preservation with original murals painted in 1938 by the late Allan Houser and the late Gerald Nailor.
The Indian Craft Shop has developed a national reputation for carrying a diverse selection of authentic American Indian arts and crafts. Over 45 tribal groups within the United States are represented. The shop offers quality to the novice as well as collector - fulfilling part of its mission to build widespread appreciation for the skill and time involved in the crafts and to the continuation of artistry through today's generation.
Craft areas represented in the shop include pottery, jewelry, quill and beadwork, kachinas, sculpture, weavings, basketry, sandpaintings, fetish carvings, Alaskan crafts/carvings as well as miscellaneous craft items. The shop also boasts an extensive selection of books about American Indian arts and crafts. The staff of The Indian Craft Shop enjoys sharing their knowledge of the arts and crafts and will easily turn your visit into an educational and enjoyable one.
The Interior Museum and the National Park Service public information office are additional places to visit while at the Department of the Interior headquarters building. For information on the museum tours, please contact the Interior Museum at (202) 208-4743.