Artist Bio: Yellowhorse Family (Navajo)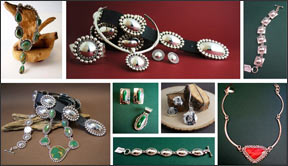 Artie Yellowhorse (Navajo) has spent a lifetime, along with family members, establishing a fine jewelry business that has become known for its contemporary designs, high quality stones and materials, and exceptional quality of silverwork. Artie Yellowhorse Designs blends Navajo culture with a contemporary world, creating timeless jewelry showcased at selective galleries across the United States.
Artie was born and raised on the Navajo Reservation in Arizona. She is of the Towering House Clan and is a third generation silversmith. Her grandfather, Cuthair Yellowhorse, initiated the Yellowhorse family tradition of working with silver and turquoise.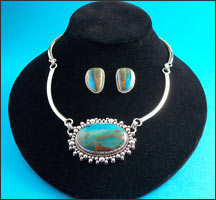 Artie Yellowhorse Designs has become a family tradition and enterprise. The business has been built over many years with great support from Artie's late sister, Gloria, and Artie's daughters, Desiree and LeiLani, all who have exhibited high energy, strong work ethics, and high standards for quality – traits that are so evident in this family. Richard Yellowhorse, son of Gloria, has also created his own jewelry over the years, demonstrating this family's signature skill and beauty in jewelry design and creation.
Yellowhorse Designs are made possible by hands-on work by family members, both with creating jewelry and performing all business functions, and by the talent of Navajo and Pueblo silversmiths who develop and master their skills to produce the Yellowhorse Designs as well as their own jewelry.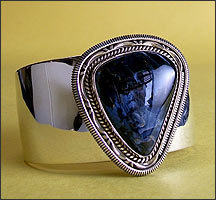 Their trademark "Rising Sun" design is one of their most popular collections with its round or oval-domed center surrounded by small 'drops' or beads of silver – each one made by hand. Their shadowbox design also begins with a round or oval-domed center surrounded by a sleek shadowbox that results in a stylish, sophisticated look. This similar trademark style is expanded to include framing natural shapes of stone settings with quality silverwork resulting in a great variety of colors and shapes in jewelry. Another signature feature of their jewelry is an extra base or platform of silver giving it a high level of substantial quality.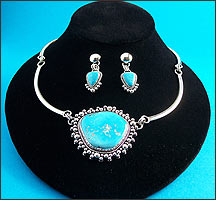 Style and quality go hand in hand with Yellowhorse family jewelry designs. This is a family that works with great pride and joy in continuing a family legacy and bringing beauty and joy to people – helping in understanding the Navajo concept of Walk with Beauty.

© The Indian Craft Shop 2006