Artist Bio: Tony Jojola
(ISLETA PUEBLO)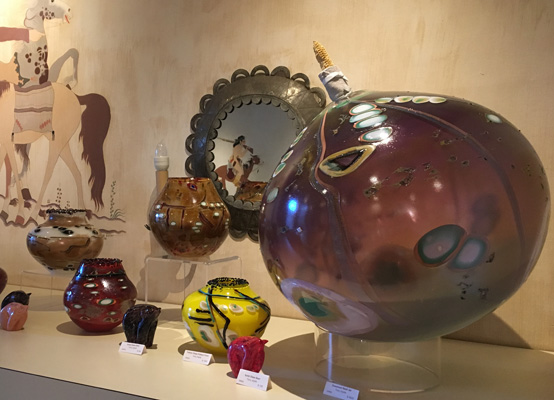 Tony Jojola is a well-established and recognized glass artist, one of a just a few Native American artists specializing in hot glass. He is known for his pottery form glass bowls and jars and also for his solid form glass bears. He combines an array of colors with abstract and traditional designs, integrating the contemporary and ancient into elegant and striking works of art.
Tony was born on the Isleta Pueblo in New Mexico and found his calling to art during his high school years. He had some family members involved with creating by hand, including his grandmother who made pottery and his grandfather who was industrious in silversmithing, woodworking, other functional arts and in beekeeping. It was the self-sufficiency of his grandfather working with his hands that inspired Tony to search for a means of having a life of self-reliance through working with his own hands.
Tony attended high school programs at the Institute of American Indian Arts (IAIA) and after taking classes in different art mediums, took an art class in glass and knew he found his calling.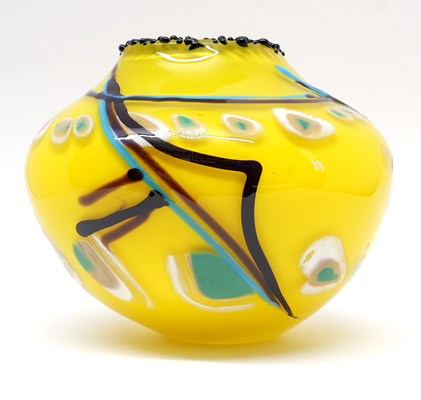 Tony continued his studies at the Haystack Mountain School of Craft and with famed glass artist Dale Chihuly at the Pilchuck Glass School. From these early days of apprenticing and assisting with class programs for at-risk students, Tony was instilled with the benefits of cross-education. In the late 1990s, he returned to the southwest and started a school for at-risk students in Taos, New Mexico which operated for about 13 years. He has since returned to his roots at Isleta.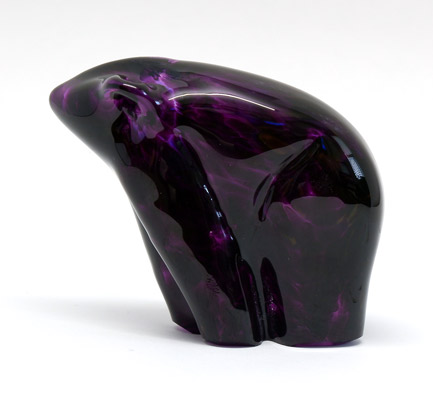 Through his glasswork, Tony has found a modern way to take old traditions and present them in a unique and beautiful way. Ancient symbols and patterns are incorporated, including the use of some of his grandfather's jewelry stamps to adorn his glass forms. No two pieces are alike and Tony does not use molds to form his pieces.
Tony's work is fluid and takes on natural shapes. He is proud to work in glass and sees it as an expression of his culture that is everlasting given, he says, "glass has a life of 10,000 years".
© The Indian Craft Shop 2018