Artist Bio: Geraldine and Tino Youvella (Hopi)

Hopi Kachina doll carvers Geraldine & Tino Youvella (Hopi)
Filmed and produced by Greg Surface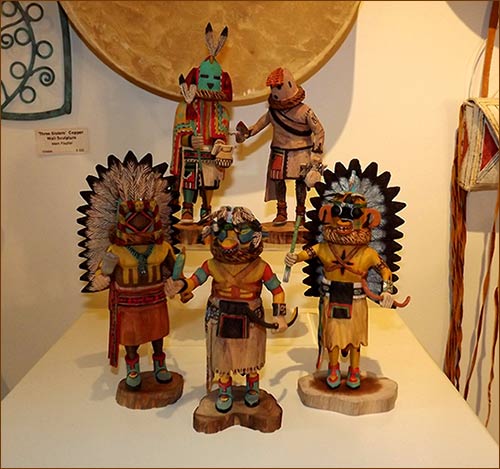 Kachina doll carvings by Tino, Alexander and Preston Youvella
Take a peak at our current kachina doll selection : http://www.indiancraftshopsales.com/IndianCraftShopKatsinas.aspx

Tino (short for Celestino) is a kachina doll carver from First Mesa in Polacca, Arizona, where he and his wife, Geraldine, have raised six children. Tino is of the Kachina/Parrot Clan belonging to the Village of Sitsomovi (Sichomovi) at Hopi. He began carving kachina dolls in 1962, and with limited employment opportunities in fire fighting, he pursued carving to supplement his income. Tino is a self-taught artist who used books to study and practice carving anatomy. He continued carving while he worked other positions including being an auto mechanic and even assisting making dentures in Phoenix until about 1980. During that time, his carving talent was recognized and encouraged by collectors/photographers and authors, Lois and Jerry Jacka, and by traders Bruce and Ron McGee. There was a high demand for his dolls, and he has been carving ever since.
While some carvers are known for specializing in certain figures, Tino is known for his versatility, capturing the essence of a great variety of figures. His wife Geraldine often helps with the sanding and painting of the dolls. Their sons, Alexander, Preston and Darrell are also kachina doll carvers, and their four grandsons are helping to carry on this family tradition. Tino is the brother-in-law of Leo LaCapa, another noted carver of this family, who is of the Water/Corn Clan and has also been featured at The Indian Craft Shop as a highlighted artist.
Kachinas (Katsinas) are central to the traditional religion of the Hopi people of Northern Arizona. A kachina is a supernatural being relied upon to provide rain, fertility, health, balance and well-being. Each year in elaborate ceremonies, men of the Hopi villages dress and personify themselves for dances to represent and call upon the different kachinas. Kachina doll carvings are representations of the dancers/kachinas, and while they play a role in many Pueblo societies, the Hopi are the most noted and prolific in kachina doll carving. The dolls have long been used to instruct Hopi children in the ways of the traditional religious cycles and to help them learn and identify the hundreds of different beings. The carvings convey the movement of the dancer and the specific traits of the mask, clothing, dress and accessories.
Tino's kachina dolls are carved from cottonwood root and generally range from 8" - 14" tall. Because cottonwood root is often scarce, the wood is used to its fullest advantage: Tino carves the head and body from one piece and then carves any accessories, feather accents, etc. separately. A wood-burning iron is used for detailed designs on the dolls and then the dolls are painted.
Tino's carving style includes details that represent the animal or figure in a realistic style. His dolls are carved to show movement to capture the essence of the dancer personifying the kachina/katsina. Tino carves a great variety of dolls including Eagle Dancers, Eototo and Aholi (or Chief Kachina dolls), Snake Dancers and a variety of animals, including Badger, Mountain Sheep, White Bear, Antelope and Roadrunner. His carvings capture a moment in time, such as a quick step and a hand with a rattle raised, giving the sense that the kachina doll is in movement. When asked, Tino states that he carves in the "Youvella style."
Tino is so appreciative and often amazed that his dolls have reached across the nation and the world, and have found their way into so many homes and collections. Through ups and downs with the economy, he states he and his family have adjusted, for example, by making smaller dolls so people can always afford to collect. He sees his role as helping to spread the awareness of the Hopi culture and the many, many different kachina representations that exist. Along with his carving, Tino continues to stay active in cultural and community activities at Hopi.

© The Indian Craft Shop 2015