Artist Bio: Terrill Hooper O'Brien (Mohawk)

"Spotlight" - NATIVE AMERICAN ARTISTRY - BEADWORKER
Five Minute Interview Segment with Terry O'Brien produced by Mountain Lake
PBS in cooperation with the New York State Historical Association's Fenimore Art Museum in Cooperstown, New York as shown on YouTube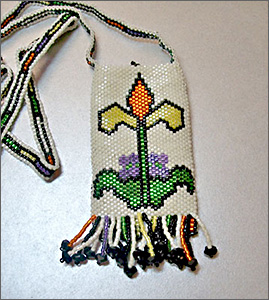 Terry O'Brien creates exquisite, beaded amulet bags that can be worn as necklaces or displayed with a fine art collection. While the style of beadwork is not traditionally Iroquois (the Mohawk are a member nation of the Iroquois Confederacy), she nevertheless continually draws on her heritage and history for inspiration and guidance.
Terry occasionally adds the raised style of beadwork to her amulet bags, thereby mixing the traditional with the non-traditional. She is also inspired by her surroundings in life and nature, creating designs that are her own unique perspective.
Terry's amulet bags (each one containing a minimum of 4,000 to 6,000 beads) are made entirely from delica beads (size 11) strung on a specialized nylon beading thread. Each bead is added one at a time using the gourd stitch (commonly known as "peyote stitch" because it is most often used to decorate the ritual paraphernalia of the Native American Church) and each bead is placed between two other beads in the preceding row. This allows the beads to stack up like bricks, fitting smoothly together to create an even, supple "fabric" made entirely of beads and thread.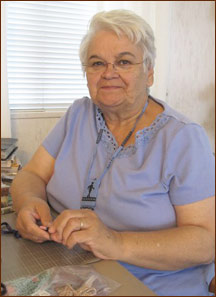 The peyote technique allows for very complex geometric motifs, often involving alternating diagonal lines. While Terry is quite adept at geometric patterns, she is also able to incorporate pictorial motifs (such as lizards, bears, turtles and dragonflies) into her design. The necklace, or strap portion of each amulet bag is not separate or attached later, but is rather sewn and beaded as a continuation of the bag itself.
Terry puts great thought into the design, balance and color of each of her bags. She bestows upon each its own name and identity and numbers them, building upon the order and sequence of their creation. They each have their own identity and place in life.
These amulet bags provide Terry with a perfect medium for taking a design or idea that's over a hundred years old and transforming it into an exciting, stylish piece of wearable art. More often than not, these amulet bags are a unique mixture of the old and the new. Terry O'Brien and her work demonstrate that Native American art need not be "traditional" to be beautiful, relevant and collectible.
Current work by Terry O'Brien on the Online Store
Contact The Indian Craft Shop at 202-208-4056 or email for other current work in the Shop
© The Indian Craft Shop 2010