Artist Bio:
Ola Eriacho (Zuni Pueblo)
Ola Eriacho has been creating beautiful jewelry for over 40 years – first on her own as an individual jeweler, and then together, with her late husband, Tony Eriacho, for most of their lives. "Our styles were very different. Over the years, they blended together," says Ola.
Tony specialized in silver and turquoise work. "I started with what some call Navajo-style work, making jewelry with large nuggets of turquoise and clusters of stones. I also made sandcast pieces and liked to use the shadowbox technique."
Ola has always specialized in working with stones, cutting and inlaying them in the classic Zuni styles. "I first learned about jewelry-making from my mother, who was known for her beautiful needlepoint [clusters of small, elongated, finely-cut stones]. Later, I learned how to inlay the stones on my own."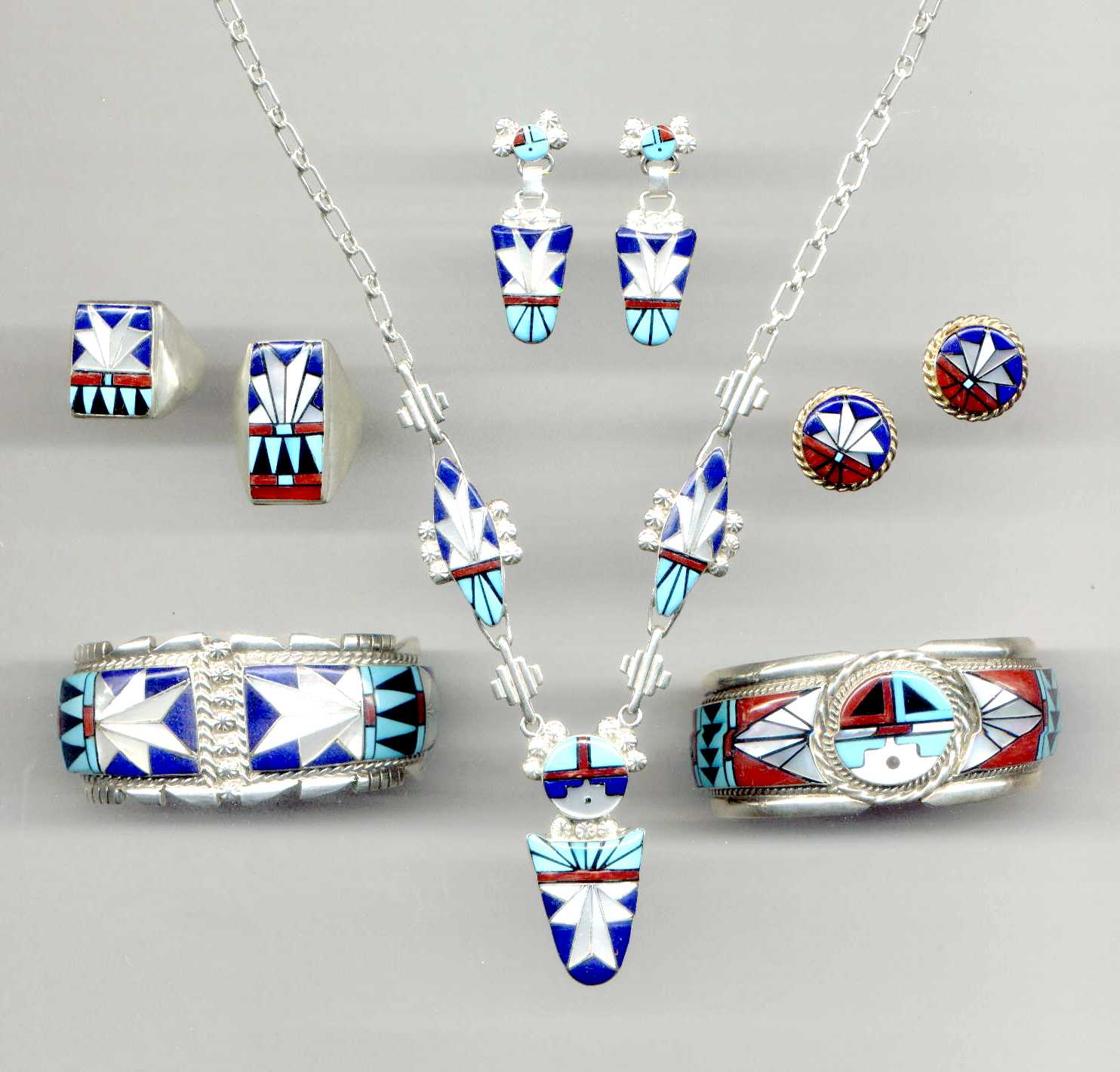 It is the precision inlay and dramatic designs that distinguishes Ola's work. "I mostly use the traditional materials that the Zuni are known for -- shell, turquoise, coral and jet," says Ola. "Occasionally, I'll try something in one of the more exotic stones, like lapis, sugilite, opal or gaspeite." The stones are inlaid in silver and gold, resulting in stunning necklaces, earrings, bracelets and pins. When creating new designs, Ola often makes a complete set with matching stones and patterns.
The sunface and sunburst designs are two favorite motifs in the Eriacho jewelry. The sunface is the mask of the sun – a stylized face with geometric eyes and mouth. The sunburst has rays of silver or gold emanating from the face. Some of the faces are so small that jet dust is used to make the mouth.
"The sun is important to our People," says Ola. "And, even more to me because I am from the Sun Clan. The sunface also is incorporated into the Eriacho hallmark. Ola's inlay jewelry has become identifiable by the meticulous quality, shape of stone and shell settings, combination of colors and the 'signature Eriacho design and style'.
Tony Eriacho, Jr., Ola's husband as well as her partner in life and in jewelry making, passed away in May 2016 from a year-long battle with pancreatic cancer. Tony was a jeweler and had also recently begun carving fetishes. He spent many years representing artists and marketing their work across the country. He also crossed the country on multiple trips with educational displays and presentatioins as an advocate promoting authenticity in American Indian arts and crafts and he worked diligently the last decade of his life in these pursuits. His many road trip and exhibits across the country were conveyed in his email address as the 'Zunitraveler'.
Current Works by Ola Eriacho on our Online Store http://www.indiancraftshopsales.com/search.aspx?find=Ola+Eriacho or email for current selection in the Shop
© The Indian Craft Shop 2002; updated 2012; updated 2016