Artist Bio: Marilyn Troglin McDanel (Cherokee)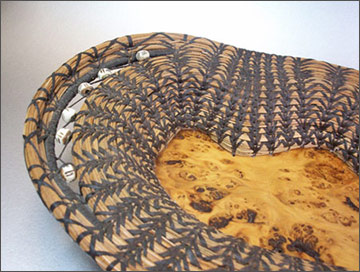 Marilyn Troglin McDanel's father and grandparents on both sides moved to California from Indian Territory in Oklahoma during the 1930s in the midst of the dust bowl, settling in Fresno, California where they began farming, ranching and gardening. Growing up in a small beach community south of San Francisco, Marilyn experimented with several types of art, including bead work and rug weaving. Without other tribal members to learn from, Marilyn was self taught in all of her arts.
As an adult, Marilyn created a few baskets, but did not get serious about basket weaving until 2003, when she discovered pine needle basketry using the long needles of the ponderosa pines that grow around her home in the foothills of the Sierra Nevada Mountains in Northern California. She taught herself the art of pine needle basketry, first making baskets using designs created by others to learn the techniques. After those first few baskets, Marilyn began to experiment using different weaving techniques, incorporating burl slab bases or weaving beads, shells and bones into the pine needles.
Marilyn's basketry is exceedingly tight and solid, with very tight bundles wrapped tightly with synthetic sinew. This tightness is a result of her skill and expertise and also from weaving with dry needles, rather than wetting them. Marilyn currently lives in the Sierra Foothills east of Sacramento at an elevation of 2500 feet, where a mixture of pine trees can be found. The ponderosa pine in this area, with its long needles, is the most suitable for weaving. She pulls needles and keeps them in a closed box for three months before weaving them. Her baskets have interesting shapes and are graceful. Speaking of her baskets, she says, "Each basket I now create is from my heart and is my own original design."
Marilyn's work can be found in many private collections in England, Mexico, Canada and the United States. In addition to weaving baskets, Marilyn teaches others the art of pine needle basket weaving and does woodworking and quilting.
© The Indian Craft Shop 2011