Artist Bio: Lester Abeyta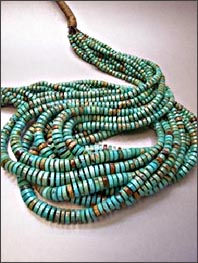 Lester Abeyta is from the Santo Domingo Pueblo in New Mexico and is known for his traditional stone and shell jewelry that reflects ancient techniques and styles, yet is fashionable in today's contemporary world.
Lester's lapidary skills were taught to him by his parents, Richard and Delia Abeyta. His father Richard began making jewelry at age 7 with his grandfather Mariano Abeyta. At that time, all the pieces were made with traditional tools. Each bead was pump drilled, hand shaped on sandstone and polished with beeswax, tallow and deer hide. Richard later attended the Institute of American Indian Arts where he studied under the renowned artist Charles Loloma (Hopi). Richard married Delia Cate in 1968. Delia is a sister to the late Joe Cate, also well-noted for traditional Pueblo style jewelry and heishi, or cut shell beads. Richard and Delia had three children, Harvey, Sharon and Lester, all of whom have learned the art of making jewelry.
In order to make the beads for the necklaces, stabilized turquoise, serpentine, pipestone, shell and other materials are sliced, their corners clipped and then are drilled before stringing on a wire. With the materials on the wire, the next step is grinding the pieces in order to shape them into round beads. All of these steps and the final polishing and finishing of the necklaces take a lot of time. The preparation of the materials is a family affair at Lester's home as he works alongside his father and sister. Lester says working together makes the time more pleasant and is part of their family culture. He also says they will sometimes have friendly 'competition' in clipping the materials, a very time consuming and tedious process that goes quicker with the team work.
Lester enjoys creating his necklaces, and has a keen eye and sense for color and balance. He sometimes identifies his jewelry and has become noted for his Indian Corn necklaces made of melon shell, clam shell, pipestone, hints of turquoise and a variety of other colors as accents. He recently designed a piece called Painted Desert that had piepestone, apple coral and melon shell, colors that reminded him of the desert.
Lester believes that continuing this traditional jewelry making is a way of expressing a connection to one another and to the land surrounding us. He states that each piece has a unique life of its own and this is evident in the finished pieces that Lester creates. Lester also uses the extra bits and pieces of shell and stone, finding use for the materials and to creating necklaces that host a variety of colors within one piece. He is also recognized for grinding graduated beads that taper smaller as they go toward the neck and stringing them in the same length, with each strand slightly overlaying on top of each other -- creating very dramatic multi-strand necklaces. Lester is also known for his traditional "tab style" earrings and makes both the traditional "wrap style" necklaces as well as those with silver cone and hook findings.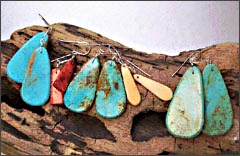 Lester exhibits at art shows throughout the country and often demonstrates at shows to share the importance of this traditional jewelry making and to explain the steps and process. Lester maintains a traditional lifestyle of subsistence farming and traditional artistry, and also enjoys travel with his wife Jessie and family. His jewelry has become part of collections across the world.
© The Indian Craft Shop 2009