Artist Bio: LaRITA LAKTONEN-Ward(Alutiiq)
Medium: Modern Dentalium/Abalone Alutiiq Jewlery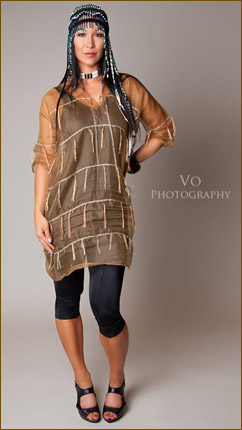 In 1977 I was born in Kodiak, AK. The Laktonen family of six lived off the main gravel road in the Native village of Larsen Bay. Only accessible by foot trail, we were up on a hill inside the bay from the rest of the village. We spent most of the year subsistence hunting, fishing, and crabbing and the summers commercial fishing for salmon.
I am thankful for the natural beauty my family experienced on a day-to-day basis, whether it be storms, tides, cold, bears, or seeing our dog playing with a fox on the beach. My sisters and I would spend hours in the woods building forts out of old wood and fishing net, or collecting treasures, artifacts, and shells on the beach. We learned to be creative and also learned that living off the land was hard work with no electricity till grade school years and no running water. Our Alutiiq language was vanishing with changing times, but our heritage was our way of life in the village.
I left Alaska and moved straight to California in 1995 to attend Humboldt State University, Arcata, CA. I chose to major in Kinesiology with a minor in American Indian Education. One of the best things I did was to join the Indian Teacher and Education Personnel Program where I got to study the educational history of Alaska Natives and American Indian people. I embraced celebrating the beauty of our history and culture and being a modern day role model for youth.
I began making Alutiiq jewelry in 2003. My sister who has dedicated her career to bring back the Alutiiq language and my father who has become a very successful carver have also been very inspirational to me. I have found so much beauty in art of our past, like a headdress from the 1800's made of solid beads and dentalium, or colorful woven hunting hats. Dentalium is a sign of wealth to us still today and has such elegance in its long and slender shape. Abalone, mother of pearl and Russian trade beads have been major contributors to my designs. I have incorporated many of these elements in my jewelry with various glass beads and sterling silver hooks and clasps for a modern appeal.
Currently, I am a wife and the mother of a beautiful girl, Ravenna. My husband, Truman, is from New Mexico and has served in the Army for 19 years. Our most recent accomplishments are that we have both placed first overall in Alaska bodybuilding competitions in 2011 and 2012. I am proud to say that I am the second Alaska Native female to do this and hope to inspire others to follow a healthy tobacco free lifestyle of good nutrition and exercise.
I have been honored to have my jewelry featured in the Indian Craft Shop in our Nation's Capital. Once upon a time, the Borough of Indian Affairs was housed within the U.S. Department of War. The U.S. Department of the Interior continues to move in a positive direction with Native American and Alaska Native issues and I feel that the Indian Craft Shop is a place where the respect and appreciation for Native Cultures is demonstrated on a daily basis from staff and customers.
It is inspiring that Alaska Native Artists from a small village of Kodiak Island can have their work in our Nation's capital. To me, Washington DC is my appreciation for my own grandfather who fought in WWII and served in Tribal Politics and for my husband who just spent most of 2012 deployed. Washington DC is so far away, yet has a place in my heart.
2010