Artist Bio: George Willis (Choctaw)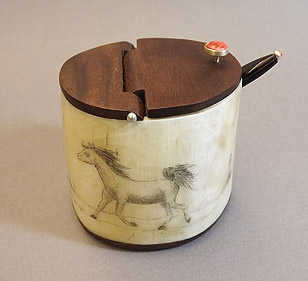 George "Shukata" Willis is an artist who produces wonderfully innovative and original jewelry, often drawing from his Choctaw heritage. Trained at the Southern California College of Jewelry Design and The Starline Jewelry in Los Angeles, he has been a professional jeweler since 1964. He operated his own jewelry shop until 1990, when he began to incorporate themes and images from his American Indian heritage into his own jewelry.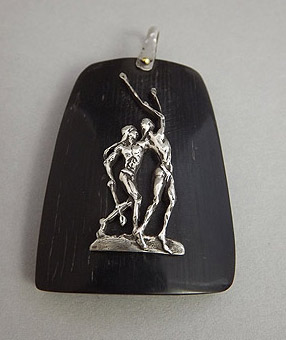 George uses a very wide variety of materials and techniques in his designs. Working with silver, gold, platinum and a myriad of precious and semi-precious stones, he creates both one of a kind and limited edition pieces. To create his editions, he uses lost wax casting. In this process, a wax model is encased within a mold and then replaced with molten metal, reproducing the exact original shape in metal. His unique jewelry designs are both innovative and contemporary, often expressing his sense of connection to his Choctaw heritage. An example would be his spirit figures, often adorned in headdress. Made to represent faces and figures, George uses unusual stones such as rhodochrosite, Mexican opal, crystalline mineral druzies, and a variety of agates for the faces and forms, adorning them with headdresses of precious metal which call to mind the traditional head gear of the Southeastern tribes. He is a master of incorporating the natural features and patterns of stones into his designs.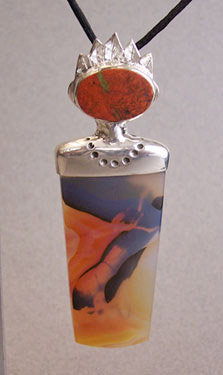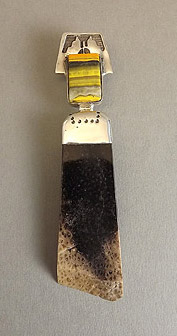 George is recognized for combining his design sensibilities and technical expertise to create award-winning jewelry. He has skill in a broad range of jewelry techniques and is always trying and designing something new with new materials. From rough cut natural stone pendants to his use of buffalo and cow horn for pendants, earrings and bracelets to highly polished stone settings, his work continues to be fresh and innovative. George has won numerous awards in juried art competitions across the nation. His hallmark is the Opossum ("Shukata" in Choctaw).
© The Indian Craft Shop 2012