Artist Bio: Earl Plummer (Navajo)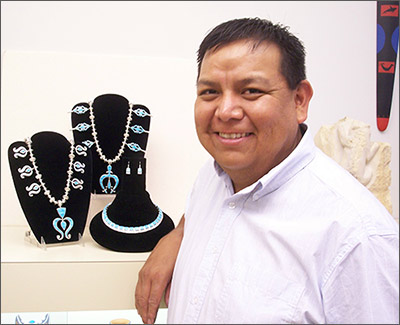 Earl Plummer is a contemporary jeweler noted for his fine lapidary skills and exceptional silversmith techniques. He creates jewelry that is striking and sophisticated for today's modern world with designs and influences that are rooted in Navajo tradition.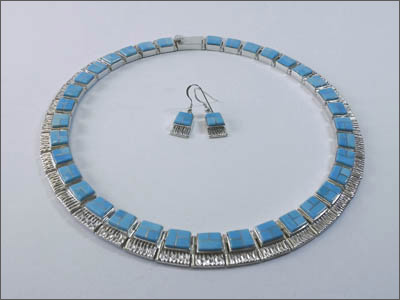 Earl began making jewelry as a teenager by watching and learning from family members. Starting with simple stamp work, he continued perfecting his metalsmithing skills and learned to cut and set the high quality stones for which he is known today. Earl has become an expert lapidarist and metalsmith, known for his meticulous precision in cutting stones, channel inlay work and exceptional handmade silver beads.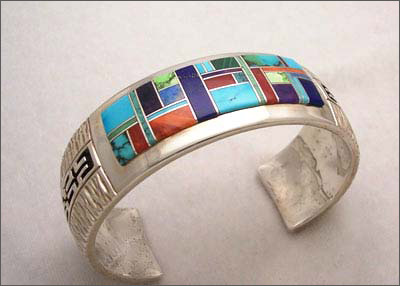 Many of Earl's designs for jewelry are inspired by observing nature. This can be seen in his rounded, floral-style najas and his arrangement and combination of stones and shell in nature's colors. Earl appreciates and seeks high grade, natural turquoise to use in his settings as well as other stones and shell. He creates raised inlay settings that resemble landscapes of the southwest as well as flat inlay work framed with or without silver channels, that can resemble a faraway galaxy.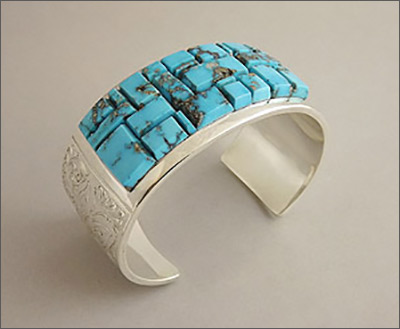 Earl has won numerous awards in juried competitions at shows including Gallup Intertribal Ceremonial, Santa Fe Indian Market, Heard Museum Guild Indian Fair and Market and the coveted "Artist of the Year" award for 2011 from the Indian Arts and Crafts Association.
© The Indian Craft Shop 2015