Artist Bio: Dorothy Herrera (Cochiti Pueblo)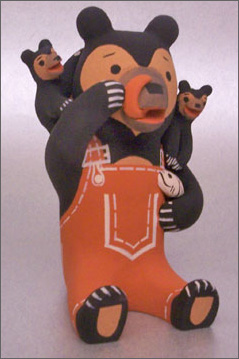 Dorothy Herrera is from the Cochiti Pueblo in New Mexico and is noted for her distinct style of handmade, clay storyteller figures. She uses red, black and creamy white mineral slips as her paints. Dorothy creates some human figure storytellers but most often creates animals and is particularly recognized for her charming bears. These may be standing on all fours or seated comfortably with cubs on their lap, arms or shoulders.

Storytellers represent the importance of oral traditions as an adult/elder shares stories, their history and lessons of life. They became popular with potters and the public during the 1970', with attention on the late Helen Cordero (Cochiti Pueblo) whose clay depiction of a grandfather with dozens of kids, appeared on the cover of National Geographic Magazine. The fondness for storytellers continues to grow, perhaps as everyone enjoys a reminder of passing down of traditions and information and supporting the young and helping them grow.

Dorothy learned to make pottery from her late mother, Mary Frances Herrera. Her grandmother, Laurencita Herrera, was one of the finest Cochiti potters of the 1930s through the 1970s. Dorothy's siblings, Edwin Herrera and Mary Ramona Herrera (goes by Mona), are well-known potters that use traditional pottery making methods passed down through their family. Dorothy's daughter, Hannah Pecos, created pottery through her high school years, in a similar style to her mom.

© The Indian Craft Shop 2011