Artist Bio: Charlie John (Navajo)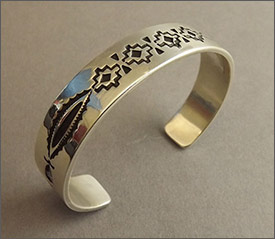 Charlie John grew up in the heart of the Navajo reservation near Dilkon, Arizona and is of the Salt Clan. Charlie has been creating jewelry since 1972 and has become well recognized for his exceptional metalsmithing skills, and for the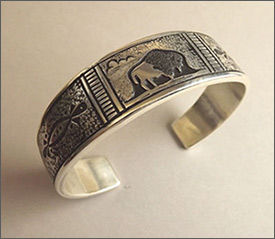 beautiful, clean lines of his jewelry. Working with silver and creating jewelry has always been a family tradition. Charlie began learning how to work with silver and traditional stones at an early age from his great uncle, William Singer (brother to Tommy Singer, Navajo jeweler renowned for his overlay and classic chip inlay jewelry). Charlie recalls fondly how William called him "Sonny Boy" reflecting the fatherly relationship theyhad. After four years of working as a shop smith, Charlie was told that he was "ready to go out on his own". He also worked at a sawmill in Winslow, Arizona, before going to full time silversmithing in 1990.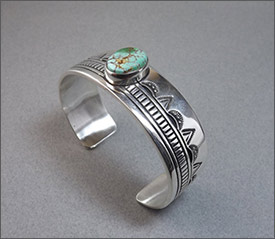 Charlie John specializes in overlay and traditional stamp work, being a master of combining both techniques. Over the years, he has designed and crafted his own tools and stamps that he uses to produce his jewelry. His jewelry is particularly noted for the flawless finishes and the high sheen that he works to produce. Charlie explains that he invests as much as one third of his total effort to produce the finish on each piece of his work. He is equally adept at integrating premium natural stones, including high quality turquoise into his work, typically featuring a single stone that enhances his work in silver rather than competing with it.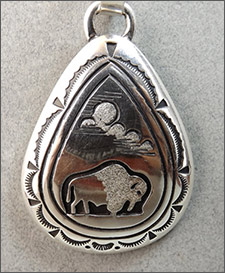 Charlie's overlay work is very subtle and refined, and he usually uses two, and sometimes three, layers of silver, creating the feel of substantial, yet elegant, "heft" to his jewelry. His designs are more traditional, including the ketoh pattern, the sun and sun rays, and what has become his "signature style" buffalo, created in overlay. Charlie thinks about his ideas and designs in the evening, and then works on them the next day. There are no patterns used in his work – he says he wakes up and knows what to create and work on for that day.

Charlie John's work is well appreciated from a distance, with bold contrasts of shiny silver and oxidized overlay/stamp work and is even more appreciated up close, as one discovers the intricate workmanship and flawless finishing techniques of this master silversmith.
Visit our Online Store to selection of our current works by Charlie John http://www.indiancraftshopsales.com/search.aspx?find=charlie+john
© The Indian Craft Shop 2016