Artist Bio: Charlene Sanchez Reano & Frank Reano
(San Felipe & Santo Domingo Pueblo/Kewa)
Charlene Sanchez Reano (San Felipe Pueblo) and Frank Reano (Santo Domingo Pueblo/Kewa) often collaborate on jewelry. Charlene studied art at NM Highlands University. With encouragement from her sister in law, Angie Reano Owen, and her late mother in law, Clara L. Reano, Charlene and Frank began making jewelry in the 1980s. Charlene has attributed their unique style of mosaic inlay to Frank's family. In creating their work, Frank often prepares the materials, working to cut, grind and polish and Charlene often designs the mosaics and the jewelry.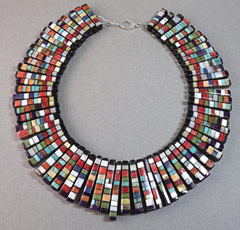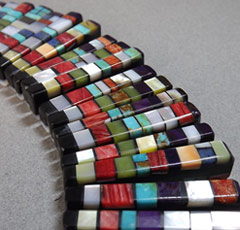 One of Charlene's noted designs are her double sided necklaces that feature inlay tabs that have two distinct looks. While one side may feature turquoise and pen shell the other may have a contrasting pattern of vivid orange spiny oyster and white clam shell. One tab will be reversed revealing the design that is on the opposite side.
Charlene has won many awards for her superlative mosaic inlay work, including Best of Division at the 2008 Santa Fe Indian Market and the Joe Cate, Jr. Award for traditional Puebloan jewelry at the 2011 Santa Fe Indian Market. Charlene and her husband Frank work on jewelry together and are noted for their innovative designs. Always searching for new materials and coming up with new designs, they are noted for bringing this ancient technique that was practiced by the ancient Puebloans into the 21st Century.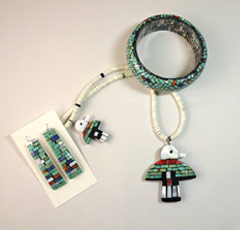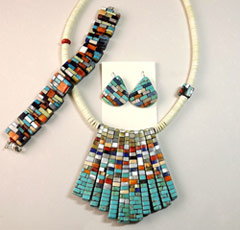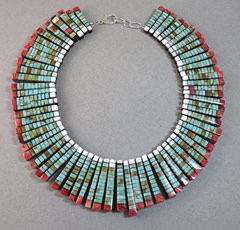 © The Indian Craft Shop 2012