Artist Bio: Bennard & Frances Dallasvuyaoma (Hopi & Pima)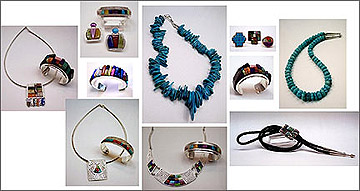 Frances and Bennard Dallasvuyaoma are a husband and wife team who left successful careers to become full-time jewelers. Their innovative jewelry is a dramatic blend of both ancient and contemporary tradi­tions, techniques and materials. Frances is Hopi and Bennard is Pima and Hopi. "We design each piece of jewelry to signify balance and harmony," says Bennard. "When we talk about balance and harmony, we mean that there is an order to everything and nothing is in disarray." Cut and polished by hand, natural gems and stones are set in a modern version of the ancient mosaic style. The results are dazzling; each piece of jewelry in a rainbow of colors combining symbolism from their cultures.
The stones are encased in sterling silver or gold cast in sandstone from Hotevilla on the Third Mesa. It was important to Bennard and Frances to find rock from their homelands to cast their jewelry. With characteristics different from tufa stone, learning to work with sandstone is "one of our secrets," says Bennard. The sandstone creates beautiful settings of textured metal which contrasts with the smooth surfaces of the gems. More recent works integrate Pima designs and patterns around the settings. The Hopi Reservation is "the Center of the Universe," says Bennard. "It's the land that holds the corn. By using the sandstone, the land is holding together the corn in my jewelry, just as it does in life."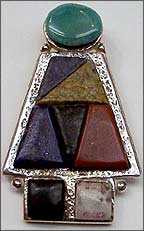 Frances and Bennard use gems, minerals, petrified woods, fossils and shells from around the world, including turquoise, amethyst, aventurine, carnelian, chrysocolla, chrysoprase, citrine, coral, crystals, fluorite, ironwood, jade, lapis, labradorite, malachite, mother of pearl, opals, peridot, petrified wood, pipestone, rubies and more. "I wanted to create my own style that incorporated the styles of our ancestors found in the ancient ruins. Many of these designs we still use in ceremonies. I wanted to take them and create our own look but keep the meanings behind them," says Bennard. "Each stone, as in ancient times, symbolizes a single ear of corn. The corn which comes in many colors is stacked and stored for the winter months. Each stone brings its special power as part of the world's magnificent ability to maintain its balance and harmony. In addition, each piece represents my name. 'Dallas' means 'corn pollen' and 'Vuyaoma' means 'to carry' the corn pollen in harmony. When the gems are stacked, it is like the corn that is stored in winter to sustain life."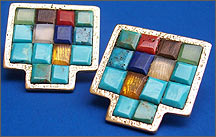 "I combine materials from the outside world with the concepts of Hopi to make unique pieces that are very alive," says Bennard. The stones are set in mosaic patterns that represent landscapes, images and symbols from our two cultures. Designs include the Butterfly, Eagle, Thunderbird, Hopi Maidens, Whirlwind, Kokopelli, Migration, the Equinox and Solstice. Spirit Door pendants and earrings depict the uniquely shaped physical and spiritual doorways found in Hopi architecture. The Four Direction design represents the fourth world we currently inhabit, the four major clans that completed the migration journey, as well as the four directions. The Sun Girl design has three clouds over a half moon shape filled with rain water. Designs can also be as simple and elegant as Bennard's award winning bolo tie depicting an ancient stone wall.
Building their jewelry business has taken time. After college, Bennard's computer programming and business education landed him a corporate job in California. It wasn't long before he missed the quiet life at home, gave up his position and returned to school to become a teacher. While attending Washington State, he studied Jewelry Design along with his Masters Program in history and Indian education. After graduation he worked as Education Director for the Hopi Tribe where he spearheaded and authored the documentation necessary for Congressional funding to build the Hopi High School. Bennard worked sixteen years for various school systems. During this time he painted and made jewelry in the classic Hopi overlay style. At the end of his teaching career, he became Education Curator for the Museum of Indian Arts and Culture and started sell­ing jewelry on weekends. It was a trip to the International Gem Show in Tucson that inspired the change of his style. He fell in love with the stones and incorporated them into his own unique style. Frances is the first Hopi female attorney and was the first Native American accepted to University of New Mexico Alfred B. Sloan MBA Program. An attorney practicing Native American, Environmental and Business Law, Frances knows all of the techniques and enjoys working with the stones. Frances helped with the jewelry business but was unable to work full time until the business was self sufficient. Their jewelry has won numerous awards, can be found in the collections of the Museum of New Mexico and the Museum of Man in San Diego and has been exhibited in the United States, Europe and Asia.
© The Indian Craft Shop 2005