Artist Bio: Darrel Norman Ee-Nees-Too-Wah-See (Growing Like a Buffalo) (Blackfeet)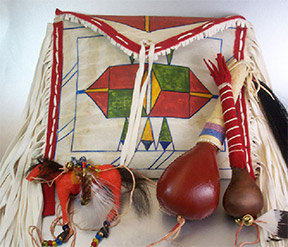 "My art reflects the beauty and tradition of my (Blackfeet) Pikuni heritage. I not only work in traditional materials and do traditional items, but I also do contemporary works in nontraditional materials based on Blackfeet designs and imagery. As art is an integrated part of our lives as Blackfeet, I immerse myself in all aspects of it: Dancing, singing, ceremony, storytelling and visual arts. All of these things help me express myself in the arts. To me this is all carrying on traditions, which should be shared and passed on to upcoming generations. It is preserving our culture and our nation. I do this through teaching both children and adults as well as representing artists in my gallery and hosting an international clientele at my tipicamp."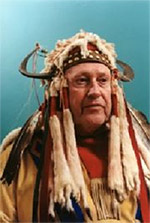 Darrell's traditional and contemporary art is based on Blackfeet design and imagery. His work includes paintings and sculpture as well as traditional material items such as drums, rattles, shields, lances and rawhide containers. After moving back to the Blackfeet Reservation in 1992, he founded the Lodgepole Gallery & Tipi Village in Browning, Montana. He has received the Community Spirit Award in 2002 and the 2009 Artist in Business Leadership Award from the First People's Fund. Through all of his activities, he is a teacher and performer, bringing the culture and art of the Blackfeet to the world.
© The Indian Craft Shop 2011