In many ways, Vivian Ross is like her baskets -- at the heart of each one is cedar and a tradition that goes back thousands of years. Also woven into each basket are strands and colors that reflect the other influences that have shaped her life.
Before she was born, Vivian's mother, Anna Benson, lived in the Aleut Village of Katmai. Anna and her family were forced to relocate after Mt. Katmai erupted in 1912 and buried the village in over six feet of ash. They relocated to Bristol Bay, where Anna attended the missionary boarding school. It was here that Anna learned to blend her Aleut art with the Yup'ik style of weaving that was prevalent in this area.
Anna became an accomplished basket weaver and passed this knowledge on to Vivian. Unfortunately, Anna passed away before seeing her daughter take up the traditional basketweaving of her ancestors.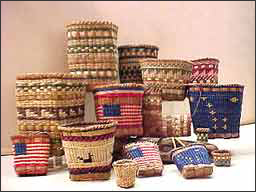 "We called our mother, Anna Strongwoman," said Vivian. "The first baskets I made bear her traditional motifs, a thunderbird and deer. My mother would be proud if she could see what I'm doing today." Later, Vivian would add another pattern from her family -- her stepfather Benny Benson's design that became the Alaska State flag.
Vivian grew up in Alaska and later spent time in the Hawaiian Islands and Guam. Today, Vivian lives in Oregon, visiting Alaska whenever possible. "I loved the colors in baskets from the Pacific Islands," says Vivian. "It's one of the reasons I enjoy experimenting with different colors, textures and materials."
She creates beautiful baskets from natural materials she gathers and prepares. Vivian spends months collecting, soaking and trimming the grasses and barks, curing most of them for three to six months. Cedar is the basis for almost all of her baskets, medicine pouches and quivers. Most of her baskets begin with a plaited center, accented with rows of twined grasses. She gathers the raw cedar bark early in the spring when the sap is running from living trees. She also uses bark from downed trees, soaking it for a day or two until scraping and cutting will separate the outer bark. The bark is coiled when wet and then cured for six to eight months.
To gather materials, Vivian travels the Northwest. She gathers brown runners from the wild strawberry plants on the Oregon coast, white bear grass which only grows in the Cascade Range, and sweetgrass that must be handpicked in June and handled with care to prevent breakage. She gathers bear grass one strand at a time, and never more than eight or ten strands from any one clump. She also likes to use white and black seaweed from the coast, dark and light cherry bark that she scrubs to a high gloss, cat tails, green crocosmia leaves, green day lily leaves, white yucca leaves and even some grasses she grows in front of her house.
Vivian is a member of the Northwest Native American Basketweavers Association, the Columbia Basin Basketry Guild and is a registered artist with the Alaska Silver Hand program. In addition to her baskets, Viv also dries and paints gourds, and produces stained glass with Indian designs.
©The Indian Craft Shop 2002