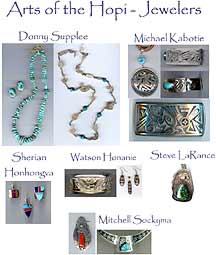 Hopi people live in the remote high desert plateaus of northern Arizona. The influence of this starkly beautiful land is often reflected in the arts produced there. A deeply religious people, the Hopi practice their religion with different ceremonies throughout the year, timed to the phases of the moon and solstices of the sun.
Through these dances, the Hopi seek to maintain and improve their harmony with nature and to celebrate the renewal of their life pattern, ancient migrations and spiritual connection to ancestral sites. Art is inherent in these ceremonies and in their daily lives, from hand woven kilts and sashes, baskets and pottery, to katsina carvings and toys given to the children.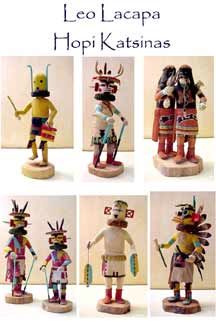 Katsina Dolls are carved from cottonwood and represent everything in nature from animals, rain, snow, insects and other natural elements. The men embody these spirits in dances or ceremonies where the people ask the katsinas to intercede for them. Dolls have been made and presented to girls at different life stages. Today katsina doll carving has also developed into a sought after art form, offering a variety of both carving styles and figures.
Jewelry often incorporates the distinctive stylized designs found in other Hopi art, including clan symbols, rain clouds, corn, birds and katsinas. In the 1930s, Hopi jewelers developed an overlay technique that has become their trademark. They cut Hopi designs and symbols out of silver and gold with a tiny saw. In an appliqué-like technique, the designs are soldered onto a bottom layer of silver that is textured and oxidized to become a dramatic contrasting background.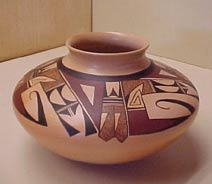 Pottery is an ancient art form found at Hopi. Styles range from traditionally shaped pots painted with designs that have been passed down for generations, to elegant, contemporary plates with textures that give the impression of sand dunes. Some potters use ancient designs that today appear modern and abstract, while others may carve realistic depictions of katsinas or corn into their pots.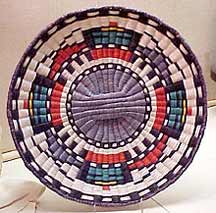 Basket weaving is another ancient craft. Ranging from simple plaited yucca trays and sifters to plaques and bowls made of yucca coiled around grasses, Hopi baskets are highly sought after by collectors. This is a time consuming art form and many of the baskets made today are for use in every day life at the Pueblo. A limited number of baskets are made for the retail market. Colors are achieved in baskets by natural methods, as well as with commercial dyes for bright colors.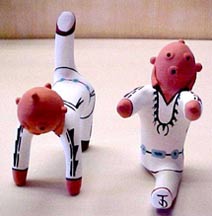 Painting, sculpture, quilting and other arts continue to evolve in a variety of traditional, abstract and modern forms. Cradleboards, cloth dolls, rattles, lightening sticks and bullroarers are also available to the public. The arts of the Hopi include a great variety of both traditional and contemporary art forms.
©The Indian Craft Shop 2004