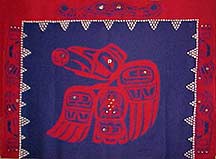 The Chilton Family is Tlingit from southeast Alaska. They are members of the Deisheetaan (Beaver) Clan of the Raven House in Angoon, a Tlingit village on the west side of Admiralty Island. While they were young children, the family of five brothers and eight sisters, moved to the mainland to live in Juneau, the capital of Alaska. It was there that three of the brothers, Gene "Squnax yaa," Brian "An Yaá" and Kevin (Doug) "Yaa nak.ch," were first exposed to carving. "Our local grade school had local Native carvers come in and teach us kids how to carve," says Gene Chilton. From this early start, they have become masters of several styles of art, including jewelry and carving.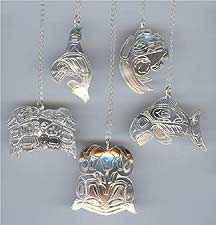 Gene was the first to create jewelry. In 1979, he moved to Sitka to study with Ed Kasko, a Tlingit from the Klukwan Village. After completing this study, Gene researched jewelry techniques in books, learning through trial and error. In 1988, he decided to travel to Santa Monica, California, to attend the Gemological Institute of America. Here he refined his techniques and received a certificate in gemstone setting and jewelry repair. Gene shared his skill with his brothers Brian and Kevin. Today they are each skilled jewelers and work in both 14k gold and sterling silver, engraving their own versions of traditional clan designs.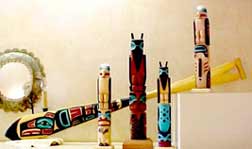 Sisters Ann, Beverly and Ellen are beadworkers. Ann also paints drums and teaches a Native dance group. Gene's daughter Tammy Saavedra (Eagle, Killer Whale Clan) is also a beadworker and makes button blanket robes. Today, this talented family carves wooden masks, paddles, totems and panels of all sizes; engraves silver and gold jewelry; makes painted hand drums; carves bone and soapstone; scrimshaws mammoth and walrus ivory; and fashions button blanket robes and other regalia. Their uncle, Larry Chilton, designs t-shirts and works to help promote the family art.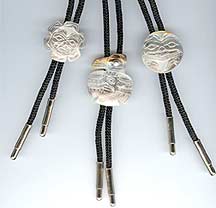 The family's art reflects the rich tradition of the Northwest Coast, using traditional clan symbols and stylized formline designs. The clans are matrilineal, with two major clans -- the Raven and the Eagle, called the moiety. When depicted together, they are often referred to as the "love birds." Lineage is further defined by sub-clans, with predator animals under the Eagle and others under the Raven.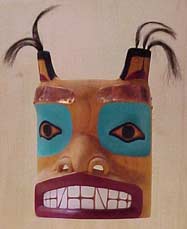 The Chilton brothers' clan symbol is appropriately the beaver. In myth and legend, beavers are industrious with wondrous building skills and accomplished providers who give wise advice -- so it is best to listen when they speak. You will see the beaver on many of their totem poles. Totem poles serve many functions, including commemorating an event, telling a story, honoring an individual or family or as a memorial. "Most of the poles I make are clan poles," says Brian. "I am inspired by the totems done by past carvers. Today, I use rulers, levels and other modern tools they didn't have. But, they still carved these amazingly symmetrical poles up to 50 and 60 feet tall." Kevin and Brian share a studio, working mostly in red and yellow cedar, each carving in his own style.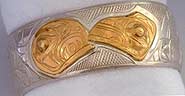 The Chiltons give back to the community by making regalia for the dance groups, donating their artwork to raise money for worthy causes and teaching those who are interested in learning. "It's fun to teach people who are excited about learning,'' said Kevin. The Chilton Family is building a legacy of art within their family and their community, acknowledging the past and adding innovation and new skills, bringing their art and culture to the world.
©The Indian Craft Shop 2006