THE BEAR DEPICTED IN AMERICAN INDIAN ART – MARCH 16-24, 2006
Guest Artist Eddie Morrison (Cherokee) March 17-18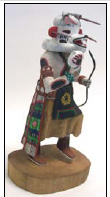 Bears can be found in the art of Native Peoples across the United States. The symbolism of these powerful animals ranges from strength and courage to protection and healing. In March, the Indian Craft Shop at the U.S. Department of the Interior will highlight "The Bear Depicted in American Indian Art." From March 16 through the 24th, an amazing variety of artforms showing how Native artists use the image and symbolism of the bear will be shown in traditional and contemporary works. The exhibit will include shields, masks, dolls, katsinas, flutes, pottery, sandpaintings, jewelry, sculptures, fetishes and carvings in ivory, stone and wood.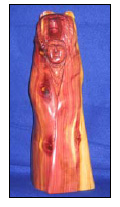 The role of the bear will vary from tribe to tribe, and the bear can also play different roles within one tribe. However, the commonality of the bear in Indian art is that it delights both the artist and collectors as well. In the Plains, a warrior may carry a shield with a bear. In the Southwest and Alaska, a hunter may carry a bear fetish or carving to bring a good hunt. A Santa Clara potter and Hopi jeweler may use the bear paw to represent their clan. A Tlingit may carve a bear mask or totem to signify their lineage. Bears appear on drums and in sandpaintings. Bear katsinas are carved by Hopi artists to represent the katsinas which come out during their ceremonies and are believed to help cure the sick. Medicine Bear fetishes also represent the healing power of the bear. Bears are also carved in wood by the Cherokee and carved in walrus ivory by the Inupiat and Yup'ik.
Eddie Morrison, a well-noted Cherokee sculptor from the Northeast will be a Special Guest in the Shop, on March 17 and 18, from 1:00 p.m. until 4:00 p.m. each day. Working in wood and stone, Eddie often uses animal themes. His carved bears of red cedar take advantage of the beautiful color variations, gentle curves and unusual twists found naturally in the wood. Another favorite material of Eddie is Kansas limestone, which he collects himself. Much of this limestone contains fossils from a prehistoric sea that once covered much of North America. These fossils are often present in the rough portions of his stone sculpture. Eddie strives to represent the "pride and dignity" of his culture in all of his works. His skill to capture these feelings is especially evident in his portrayal of bears. A Graduate of the Institute of American Indian Arts, he was awarded the Faculty Department Award for Three Dimensional Art.

©The Indian Craft Shop 2006