American Indian Arts and Crafts Since 1938

MARK YOUR CALENDARS! 2016 Events
May 11th and 12th
Artie Yellowhorse Trunk Jewelry Show
Artie will be our guest with the latest in Artie Yellowhorse Jewelry Designs
See our current Online Store selection
Terrill Hooper O'Brien (Mohawk)
Terry will share a beading demonstration and her latest in beaded amulet bag necklaces.
20% off most books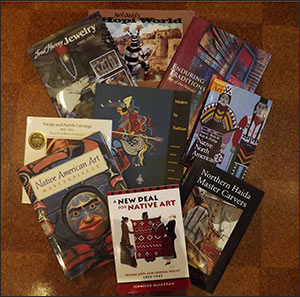 The Where Guide says "The Department of the Interior may seem an unlikely destination for visitors, but those who venture inside are rewarded with a pleasant surprise. Tucked behind an unassuming doorway, The Indian Craft Shop has been connecting shoppers with handmade treasures by emerging and established Native American artists since 1938." Read full article
E-News: What's New at the Shop and Online
The Indian Craft Shop was established in 1938 inside the U.S. Department of the Interior in Washington, DC and features American Indian arts and crafts from across the United States. Information about American Indian arts and crafts, Tips on Collecting, our Calendar of Events, and more can be found browsing our web site. A selection of the work available in the Shop can be found on our Online Store.
Where to Buy Kachina Dolls, Sandpaintings, Sealskin Thimbles, and Other Gorgeous Pieces of Native American Art... Off the Beaten Path in Washington, DC
(blog post by Jessica Goad)