American Indian Arts and Crafts Since 1938

MARK YOUR CALENDARS! 2016 Events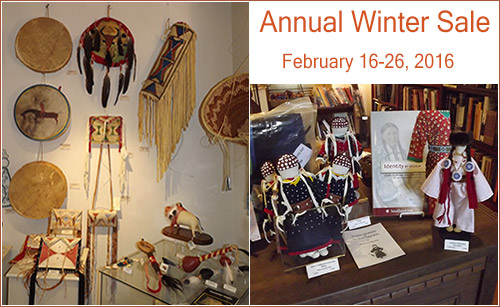 Don't miss The Indian Craft Shop's Annual Winter Sale!
For those of you who have been shopping with us for years, you know this is a great time to visit and find a special treasure at a very special price.
The Annual Winter Sale is our way of thanking you for your appreciation of American Indian art and for the loyalty you have all shown to the
Shop and to American Indian Arts.

Jewelry, pottery, basketry, fetish carvings, dolls, rugs, beadwork, works from Alaska, sculptures and more will be discounted from 10% to 50%; Look for the colored dots and coded signs throughout the store for discounts. All discounted items are final sales. We are not able to hold sale-priced items, but layaways can be arranged!

The Annual Winter Sale will also be available on our Online Web Store!
Take advantage of this great opportunity to add to your collection or select that special gift…at a great price during our Annual Winter Sale because all items return to their normal prices after the sale!

E-News: What's New at the Shop and Online
The Indian Craft Shop was established in 1938 inside the U.S. Department of the Interior in Washington, DC and features American Indian arts and crafts from across the United States. Information about American Indian arts and crafts, Tips on Collecting, our Calendar of Events, and more can be found browsing our web site. A selection of the work available in the Shop can be found on our Online Store.
Where to Buy Kachina Dolls, Sandpaintings, Sealskin Thimbles, and Other Gorgeous Pieces of Native American Art... Off the Beaten Path in Washington, DC
(blog post by Jessica Goad)